Tri Tool pledges $1 million to Workshops for Warriors, providing equipment and training to help veterans successfully pursue advanced manufacturing careers
RANCHO CORDOVA — Each year, many of the more than 200,000 people leaving the U.S. military struggle to find meaningful, living-wage careers in the civilian workforce. Often hampered by the difficulty of converting skills gained in wars to private-sector jobs, veterans are 37% more likely to be underemployed than nonveterans. Tri Tool is helping Workshops for Warriors® change that.
Founded by Hernán Luis y Prado in 2008, Workshops for Warriors is a veteran-owned non-profit organization that provides veterans and transitioning service members with advanced manufacturing training and nationally recognized certification for careers in welding, machining, and fabrication with no out-of-pocket costs to students.
What started as a workshop in Luis y Prado's garage, Workshops for Warriors is the only accredited school in the nation that offers training, certification, and placement of veterans, wounded warriors, and transitioning service members into advanced manufacturing careers. Since its inception, Workshops for Warriors has graduated 966 students who have earned more than 9,900 nationally recognized certifications.
Supporting the mission
As part of our ongoing commitment to our community and industry, Tri Tool has pledged $1 million to Workshops for Warriors. Through this partnership, Tri Tool will donate $750,000 of equipment, provide 10 scholarships over the next five years, and offer a Pipe and Tube Machining Program where students can receive advanced training and certification on Tri Tool processes and equipment.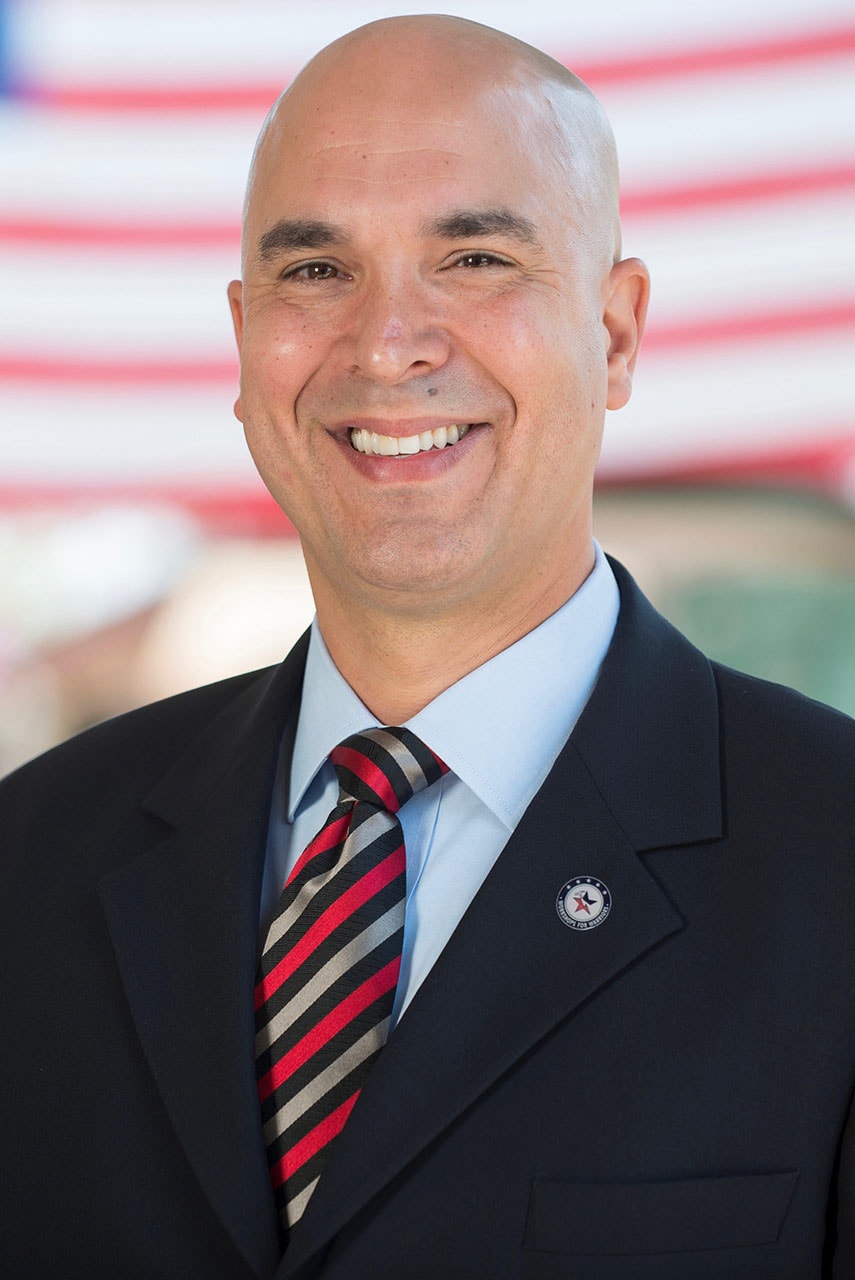 "Tri Tool's support of Workshops for Warriors demonstrates their significant and exemplary commitment to our nation's veterans and the future of American manufacturing,"

Hernán Luis y Prado
CEO and Founder, Workshops for Warriors
Tri Tool's Advanced Welding and Introduction to Fabrication Program will teach students a specialty skillset of pipe and tube machining and welding from experienced field machinists. As part of the course, students will learn advanced pipe beveling, severing, facing and other precision fabrication techniques. Through the partnership, Tri Tool has donated training hardware and tooling for five curriculum stations.
"At Tri Tool, supporting similar-minded, pioneering organizations like Workshops for Warriors is inherent to our culture that began with our co-founder, Dr. George J. Wernette's service in the U.S. Navy and U.S. Air Force," says George J. Wernette III, Chairman of Tri Tool. "We are so very honored to contribute to one of the greatest Veteran-minded non-profit organizations in existence. Through our partnership program, together we make the world a safer place, one weld at a time."
Tri Tool was co-founded in 1972 by Dr. George J. Wernette, a surgeon who served in the U.S. Navy during World War I and volunteered with the U.S. Air Force during the Korean War. During the construction of the Rancho Seco Nuclear Power Plant in California in the 1970s, Dr. Wernette was tasked with developing safer and more consistent welds for the facility. From the back corner of a doctor's office and a garage, Tri Tool was born, achieving Dr. Wernette's mission of "saving lives, one weld at a time."
"Tri Tool believes in the vision of Workshops for Warriors and is proud to support the organization," says Chris Belle, CEO of Tri Tool. "We have partnered with government and defense agencies for over five decades to ensure successful missions for those who serve our country."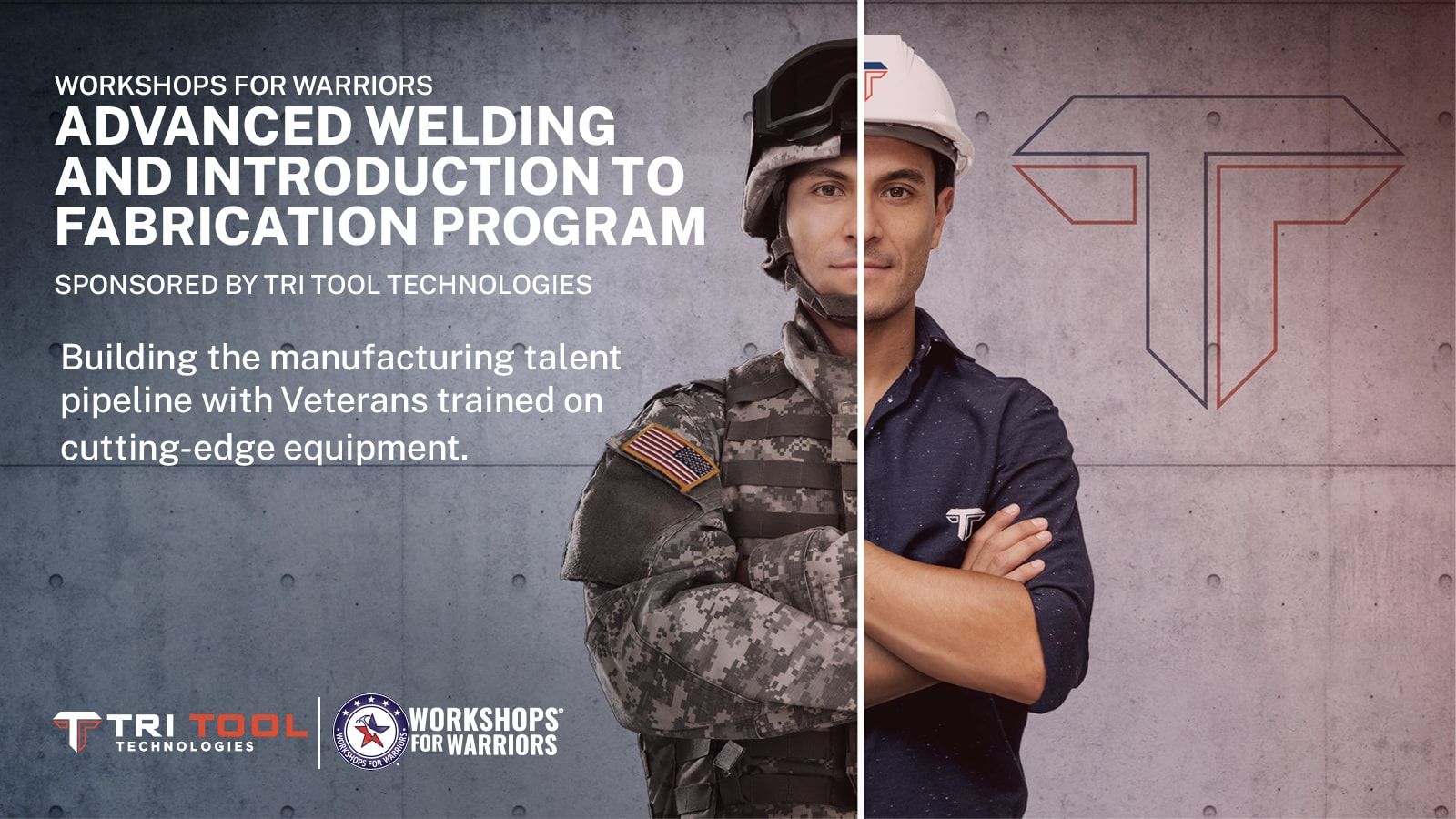 Rebuilding American manufacturing,
"one veteran at a time"
The United States is currently facing a skilled worker crisis. According to "The Deloitte Skills Gap in U.S. Manufacturing 2025 Outlook" report, 59-years-old is the median age of America's advanced manufacturing employee. In six years, 80% of the workforce will be retiring. In addition, 3.5 million manufacturing jobs are going unfilled due to the lack of skilled labor, and that number is expected to rise to 5 million within the next 15 years.
Through their mission of "Rebuilding American manufacturing, one veteran at a time®," Workshops for Warriors strives to solve two systemic issues: replacing America's advanced manufacturing talent workforce and ensuring service members and veterans successfully transition into viable, upwardly mobile civilian advanced manufacturing careers.
The Workshops for Warriors program is four months long with a focus on CNC machining and welding. More than 70 different machining and welding credentials can be earned, and the courses are recognized by NIMS and the American Welding Society. Tri Tool's Pipe and Tube Machining Program is a combination of safety and extensive hands-on training that certifies students in Tri Tool equipment and confers the skills needed to successfully operate and qualify to all required machining standards in the industry.
As a testament to their impact, Workshop for Warriors boasts a 94% job placement rate.
Filling careers, not positions
Tri Tool is one of the fastest growing companies in the advanced manufacturing industry. For over 50 years, we have partnered with companies in major industrial markets—aerospace, government and defense, life sciences, power generation, oil and gas, and semiconductor—to design, develop, and manufacture precision machining and custom engineered tools that solve our customers' toughest challenges. Our people, and their skills, ingenuity and experience, are the difference.
"Tri Tool is impressed with the talent that Workshop for Warriors is cultivating through their training program," says Mandi Higley, Head of People & Culture at Tri Tool. "The quality and caliber of this program allows graduates to immediately enter into lucrative careers as welders, fabricators, and CNC machinists. At Tri Tool, we look forward to working with these skilled graduates as we continue to push the boundaries of conventional innovation."
For more information on Workshops for Warriors and the Tri Tool Pipe & Tubing Machining Program, visit wfw.org
About Tri Tool
Tri Tool is a privately held, global leader in the design and manufacture of high-performance, PurposeBuilt™ precision machine tools and custom MissionBuilt™ engineered solutions for major industrial markets, including aerospace, government and defense, life sciences, power generation, oil and gas, and semiconductor. For over 49 years, we have partnered with the world's top companies, providing state-of-the-art equipment, Field Services, and Rental Programs that increase productivity, optimize costs, and accelerate delivery. Unconventional innovation with extreme agility and proven results—that's our thing, solving your toughest challenges, anywhere, in record time.