How machining automation can significantly reduce workplace injuries and workers' compensation claims
Experienced machinists, fabricators, machine shop owners and OEMs use their trade skills and expertise to shape and reshape the world we live in. And in all cases, the question isn't whether they can machine complex metal parts and components effectively. The real question to ask is: Can they do it safely and efficiently?
But that's a complex question. The manufacturing sector is experiencing an unprecedented labor shortage that has been exacerbated by the COVID-19 pandemic. Supply chain issues and growing demand are challenging companies to ramp-up production and response time. In recent years, workplace injuries in the manufacturing industry have reached an all-time high, with workers' compensation claims becoming a serious liability for businesses and organizations.
To improve precision machining safety and efficiency, businesses need to adopt a new way of thinking.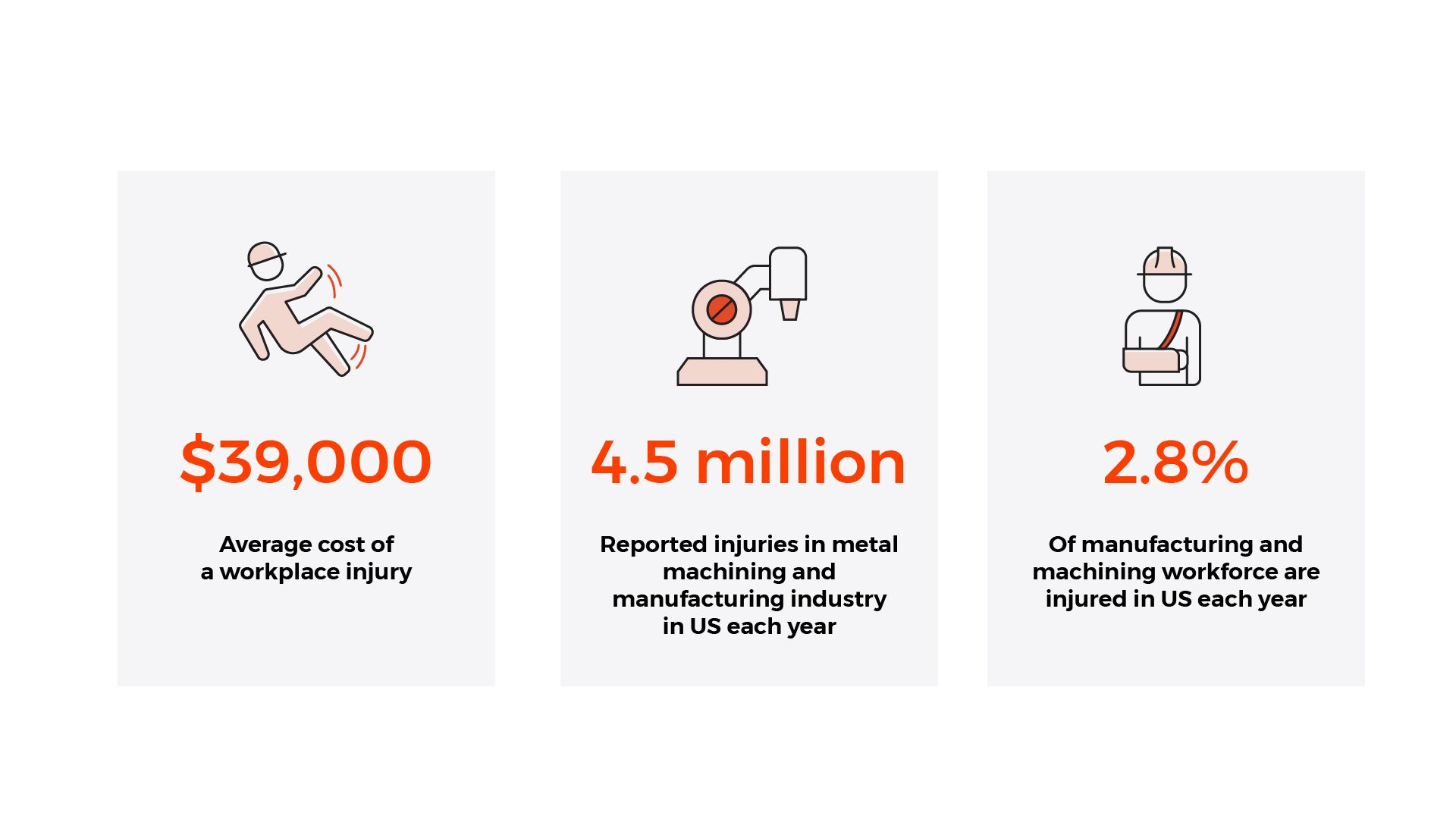 The cost of workplace injury
According to the National Safety Council (NSC), the total cost of workplace injuries in 2017 was $161.5 billion, which is equivalent to $1,100 for every employed worker in the US. On average, the direct and indirect cost of a workplace injury, such as wage and productivity losses and medical expenses, is $39,000.1
While these numbers represent US employment as a whole, a deeper look into precision machining reveals the sector is outperforming the general economy in labor shortage, as well as workplace injuries, thanks to the nature of the work and an aging workforce.
More prevalent, more prolonged
There are 4.5 million reported injuries in the metal machining and manufacturing industry each year in the US alone. In fact, metal fabrication's number of injuries per 100 people (2.8 per 100) is higher than all other industries including healthcare, police, and fire rescue.2 An aging workforce further complicates the problem.
According to the National Association of Manufacturers (NAM), workers between the ages of 55 and 64 account for up to 27% of today's manufacturing and machining workforce. When an older worker is injured on the job, they average three times as many days away from work as their younger colleagues.3
All of these numbers add up to one conclusion: amidst a labor shortage that is constricting the number of skilled workers, on-the-job injuries place a heavy toll on manufacturers, both financially and operationally.
3 most common machine shop injuries
In an industry where mistakes can lead to serious injuries, precision machining operates under rigorous state and federal safety requirements. However, statistics show that the most common types of machine shop injuries are not equipment accidents, but rather strains and stresses caused by repetition or overuse.
1. Overexertion, bodily strain, and repetitive stress injuries - The most common types of machine shop injuries are overexertion, bodily strain, and repetitive stress injuries, such as carpal tunnel syndrome, tendonitis, and all upper and lower body musculoskeletal injuries. On average, 42% of repetitive stress injuries result in 30 or more days away from work.
2. Soreness and pain - The second most common type of injury is soreness and pain. Workers subjected to a prolonged series of vibrations might sustain injuries similar to being stuck in an awkward position or posture for an extended period. This damage is often worsened as a result of repeated work sessions.
3. Hand tool-related injuries - Many hand tools are involved in the metal and parts fabrication process, which can be a direct source of injury. Improper tool selection, poor equipment maintenance, and ineffective workstation design can increase the strain on a worker.
Automation: a new way of thinking
Driven by the need to machine faster, better, and for less, industrial manufacturers and fabricators of all sizes are embracing various forms of automation in the quest to lower costs, increase production, and reduce response times. Yet, the efficiency gains of machine automation are only one side of the coin.
Automation also contributes to the elimination of long-standing safety concerns and costly workplace injuries, especially those caused by repetitive, manual tasks. Most machine automation solutions are built to handle tasks that fall under one of the "three D's of automation": jobs that are dangerous, dirty, or dull. Research shows that automation can realistically reduce up to 72% of the common causes of injury in manufacturing and machining environments.1
A use-case
Valex, a leading electropolished tubing manufacturer, supplies ultra-high purity stainless steel distribution components for the semiconductor industry. To improve workplace safety for its employees, Valex wanted to eliminate manually operated machines that square-and-face ends of electropolished tubing to remove potential operator fatigue points and repetitive tasks.
Valex turned to Tri Tool to develop an automated tube facing system where operators simply insert the tube against a stop and press start. The Tri Tool engineering team designed a custom, MissionBuilt™ solution that automatically clamps the tube, disengages the stop, machines the tube, returns to the starting position, and unclamps the tube — all within seconds.
The new automated tube facing system developed by Tri Tool helps Valex diminish operator fatigue, reduces repetitive-use injuries, significantly increases process efficiency, and achieves consistent machining results regardless of the competency level of the user.
Breaking the cycle
The grim statistics about the frequency and cost of workplace injuries should be a wake-up call for industries to break the cycle and consider ways to improve employee safety in the machine shop. The effective deployment of automation equipment and processes can fundamentally change your business in terms of productivity, safety, and the bottom line: profitability.
In the next decade, automation is among the 5 trends that will completely transform precision machining. Yet, despite its many benefits, machining automation should not be deployed as a quick fix for ongoing production problems or safety concerns. A poorly designed process is still a bad process even if you do it faster.
Every machine automation should have a purpose and desired outcome that supports your long-term business goals and safety initiatives. Today's manufacturing and fabrication markets move faster all the time. Going forward, machine automation offers a powerful tool for staying one step ahead of your customers, your competition, and workplace injuries.
Making machining safer
Recognized as the 2021 Safety Award of Merit winner from the Fabricators & Manufacturers Association, International (FMA), Tri Tool continues to lead the precision machining and engineering industry in terms of innovation, quality, and safety.
For over 49 years, we have partnered with the world's top companies across all major industrial markets, including aerospace, government and defense, life sciences, power generation, oil and gas, and semiconductor, to design and manufacture PurposeBuilt™ precision machine tools and custom MissionBuilt™ engineered solutions that increase productivity, optimize costs, and accelerate delivery.
Need to increase machine shop productivity and safety? Learn more about Tri Tool's automated solutions at tritool.com
References