In 1972, the Vermont Yankee Nuclear Power Station (Vermont Yankee) began operating. A nominal 650 megawatt (electric) boiling water reactor located in the southeastern corner of Vermont in the town of Vernon, Vermont Yankee was the largest electric generation station in the state for 40 years.
However, in December 2014, Vermont Yankee was permanently shut down, and Entergy, the facility operator, outlined a termination plan that would fully decommission the site by 2073. To expedite the decommissioning process, Entergy transferred the Vermont Yankee license to NorthStar in 2018. Now, under a new accelerated timeline, the completion of decommissioning work at Vermont Yankee is expected by 2030. Tri Tool was selected by Orano USA as a precision machining partner to develop a custom engineered solution that could help expedite the decommissioning objective while ensuring personnel safety and on-time project execution.
How Orano USA is accelerating the decommissioning
Orano USA is a leading technology and services provider for decommissioning shutdown nuclear energy facilities, managing used nuclear fuel, and conducting federal site clean-up and closure. Serving as a subcontractor on the NorthStar team for the Vermont Yankee decommissioning, Orano USA is responsible for the segmentation of the reactor vessel and its internal machinery, as well as the monitoring of the used nuclear fuel stored on the onsite Interim Spent Fuel Storage Installation.
For one phase of the decommissioning project, Orano USA had to depose a portion of the nuclear reactor pressure vessel, remove the jet pump diffusers located within the vessel, and sever 11" wall nozzles. Yet, the machining and cutting of the jet pump diffusers and wall nozzles posed unique challenges to the Orano USA team. To assist with this phase of the project, Orano USA partnered with Tri Tool to help overcome the challenges of machining in a nuclear environment.
Challenges of machining in a nuclear environment
Reactor pressure vessels are thick steel containers that hold nuclear fuel when the reactors operate. The vessels provide one of several barriers that keep radioactive material out of the environment. As a result, nuclear reactor vessel walls are extremely heavy and can withstand pressurized conditions, corroding environments, and very high temperatures.
Similarly, jet pumps are stainless steel and nickel base alloy assemblies that provide coolant flow to the reactor core. The jet pump diffuser is welded to the core shroud support plate and designed to recover static head from the available kinetic energy. Therefore, removing the jet pump diffuser is challenging. The composite alloy is difficult to machine, the diffuser is confined to an extremely tight space, and the high-radiation nuclear environment introduces safety concerns that prevent personnel from accessing the area.
Cutting the untouchable with Tri Tool
To assist with the project, Orano USA partnered with Tri Tool to develop a custom engineered solution that could remotely remove the jet pump diffusers within the vessel. Tri Tool also developed heavy duty tool modules with support attachments that could sever 11" wall nozzles.
Tri Tool's custom engineered solution offered the Orano USA team a complete remote control station to limit the exposure of personnel to radiation during operation. The custom engineered solution came equipped with a video camera to monitor the work being done and offered remote control over machining speed, depth of cut, and shut-off.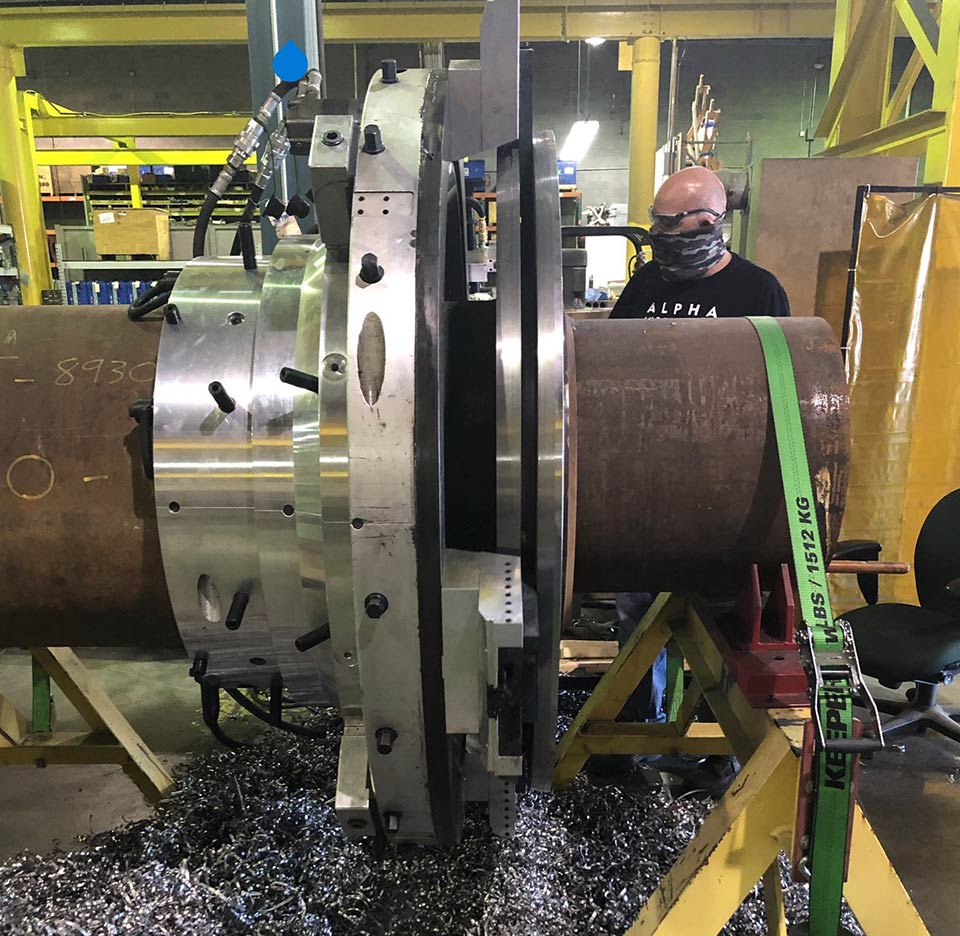 Over four decades of nuclear industry experience
For more than four decades, Tri Tool's precision machining tools, custom engineered solutions, and field services have been used during all stages of a nuclear power station's life: construction, maintenance, decommissioning, and nuclear waste processing. Our engineers are experts in the processes, requirements, and techniques necessary to safely, effectively, and efficiently work within the nuclear industry and under harsh environments. With top-quality equipment and a national network of highly skilled technicians, we are always available to help you get the job done faster, saving you time and money.
Learn more about Tri Tool's solutions and services for power generation here.
About Tri Tool
Tri Tool is a global leader in the design and manufacture of custom MissionBuilt™ engineered solutions and high-performance PurposeBuilt™ precision machine tools for major industrial markets, including aerospace, government and defense, life sciences, power generation, oil and gas, and semiconductor. For over 49 years, we have partnered with the world's top companies, providing state-of-the-art equipment, Field Services, and Rental Programs that increase productivity, optimize costs, and accelerate delivery. Unconventional innovation with extreme agility and proven results—that's our thing, solving your toughest challenges, anywhere, in record time.