How nuclear power plant operators and contractors can save serious time and money during planned outages by reserving rental equipment solutions
During an outage, time is money. For every hour a nuclear power plant is down, millions of dollars in revenue can be lost. That's why plant operators and contractors must plan every meticulous detail of an outage.
But when it comes to procuring the required equipment for your plant's outage, you may be leaving money on the table. Renting equipment can help you significantly cut costs and minimize risk during your next outage. And, if you already rent equipment, there's added value in reserving your machines and tools in advance. In fact, companies can save an additional 10% when they select and schedule rental equipment ahead of time.
As you plan your next seasonal outage, consider the following reasons why renting equipment in advance can help you offset costs, optimize planning, and boost productivity.
5 reasons to rent equipment in advance for your next outage season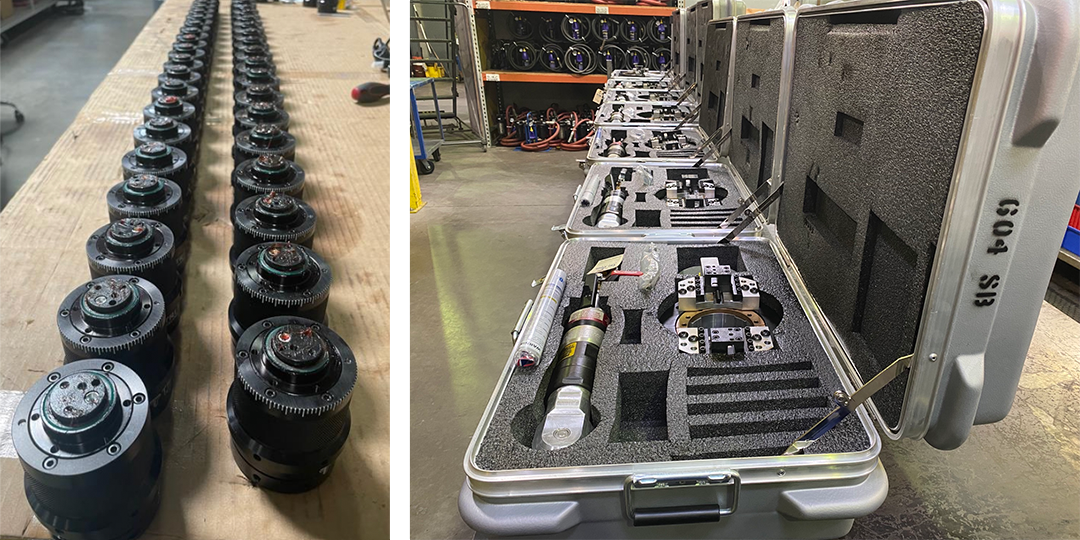 1. Stay on schedule
Nuclear power plant operators and contractors need to consider every element of an outage plan to ensure the right equipment is ready and in-place at the right time. However, much of the equipment needed during an outage is highly specialized and not part of routine inventory. You need a quick, convenient, and effective equipment solution to fill in the gaps during your planned outage.
Having access to on-demand equipment rentals is valuable for nuclear power plant operators and contractors because it:
Eliminates the process of getting approval for capital expenditures - Seeking approval for and justifying capital expenditures is often a complex and lengthy process that can delay schedules.

Minimizes wait periods for new equipment to arrive - When you have a rental agreement, it's on-demand delivery and pickup for the exact time you need.

Reduces time spent learning new machinery - When renting equipment, select a provider that offers on-site personnel training.

Enables last minute saves

- Unforeseen challenges can arise in nuclear power plant outages. Renting equipment can guarantee you have the tooling you need, when you need it.
2. Forgo the upfront investment

The most often recommended numeric benchmark for when it's time to cross over from rental to purchase is when the equipment is needed and used at least 60-70% of the time. If the equipment needed for your outage will only be used for a few weeks or months out of the year, it is much more cost effective to rent this equipment. Here's why:
Purchasing new equipment for nuclear power plant outages, such as pipe bevelers, pipe facing machines, tube severing tools, tube lathe systems, laser dimensioning systems, and hydraulic power units, can cost operators and contractors tens of thousands of dollars in upfront investments. By renting this equipment, you can pay a fraction of the price and you can use the money you save for other areas of your business.
Plus, the tooling and machining industry is constantly evolving. If you purchase new equipment for your outage this season, in a few years, that tool or machine could be unusable or obsolete. By renting your equipment, you have access to the most advanced, state-of-the-art equipment for every project, every season.
3. Eliminate the responsibility of testing, maintenance, and repairs
By renting equipment for your outages, you have access to dependable, well-serviced tools and machines without the ongoing responsibility of repairs and maintenance. Nuclear power plant operators and contractors who rent equipment from a trusted supplier can be confident that their equipment is tested, reliable, safe, and operating at peak performance. That's because all repairs and servicing are done in-house by the supplier's expert technicians.
When you choose to rent equipment, you'll avoid some of the following testing and maintenance costs:
Leasing or buying workshop space to conduct repairs

Purchasing tools and equipment to perform maintenance

Sourcing and buying replacement parts

Covering technician and repair costs

Managing equipment tracking, including hours of operation, wear and tear, and performance metrics
Did you know?
Did you know that when you rent equipment from Tri Tool, you can save thousands in expedited shipping costs by reserving your tools and machines in advance? Enjoy 10% off when you reserve your equipment 20 days in advance with only 10% down. Learn more here.
4. Don't waste money and space with storage
When it comes to owning equipment, your costs aren't just limited to the initial capital investment and maintenance. In addition to these costs, you'll also have to pay for storage when your equipment is not in use and for transportation to get it to different jobsites.
Renting equipment ensures expensive machinery used to support outages does not sit idle (and depreciate) during other parts of the year. Renting equipment also reduces the headache of logistics by helping you respond faster to varied needs in different locations. The coordination of having the right piece of equipment in the right place for the right amount of time can streamline operations, increase productivity, and save money.
When renting equipment, choose a provider that can deliver the tools and machines to your jobsite within 24 hours. This type of availability and urgency can be very valuable when performing planned and unplanned outages.
5. "Try before you buy"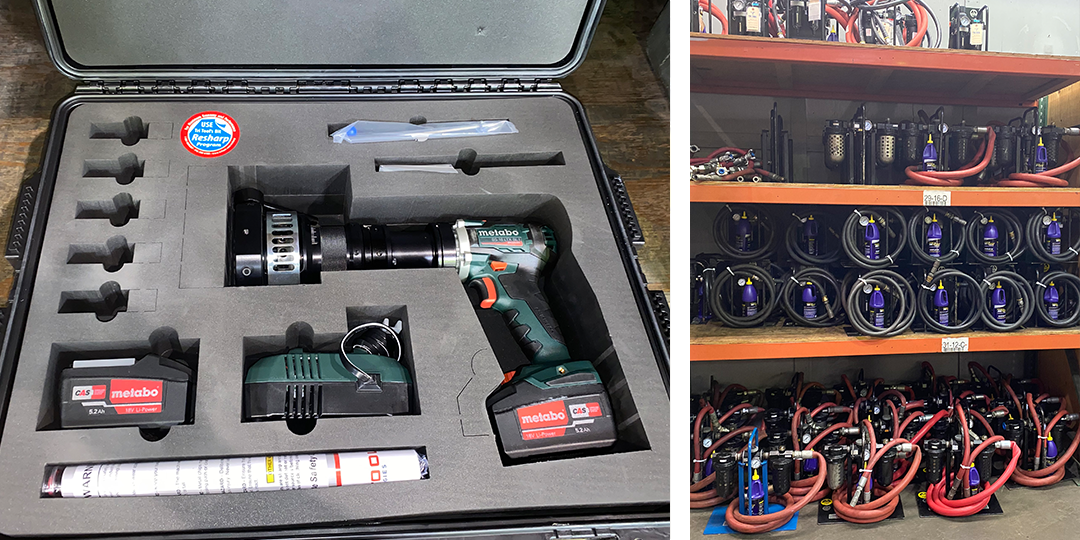 If you're renting a piece of equipment, and a project goes longer than expected, you should be able to own the equipment once the total costs of your rental fees equal the cost of purchasing the equipment out-right. This is an important differentiator to consider when selecting a tooling provider for equipment rentals.
Having the option to "purchase" equipment once your rental costs equal or exceed the cost of tool ownership gives you the assurance that you only buy equipment that you will routinely use. Through this agreement, you can "try before you buy" and take a much more cost-effective approach to purchasing new equipment.
Why you should rent equipment in advance from Tri Tool for your next outage
Outage planning and execution is a large and costly undertaking. But when you rent equipment in advance from Tri Tool, you can offset some of those costs and help your plant resume operations faster.
For over 50 years, we have partnered with the country's largest power producers to provide specialty power plant maintenance and industrial outage services and equipment. As an Original Equipment Manufacturer, we offer ready-access to a wide range of tools through our rental program. When you partner with us, you have access to the best tools faster, easier, and more cost-effective than ever before. Here's how:
Enjoy 10% off when you reserve your equipment 20 days in advance with only 10% down.

Save money on expedited shipping. Depending on your need and jobsite location, Tri Tool can deliver equipment within 24 hours.

Rent equipment as-needed or through our subscription program. Our subscription program simplifies the rental process, eliminating the need for contracts every time you need a new machine. You can simply return a unit and request another one.

Enjoy no minimum rental period. Tri Tool offers rental/lease prices tailored to your needs, with options for daily, weekly, or monthly rates. You only pay for the time you need the machine.

Minimize risk with a "trial period." If you decide to purchase your rental equipment within the first 30 days of your rental period, Tri Tool credits 100% of your rental charges towards the purchase price.

Maximize productivity and ensure personnel safety with on-site equipment trainings. Tri Tool technicians can mobilize to your jobsite and provide hands-on instruction for operating equipment with processes specific to your project.
Reserve your rental equipment from Tri Tool today
Unique challenges call for unique solutions. Contact Tri Tool today to learn more about our equipment rental program and how you can optimize your next outage. Find out more here.
Don't know what equipment you need for your next outage or project? Our equipment rental experts are here to help. We can help you devise a plan, complete with scheduling, delivery, training, and performance optimization.
Chat now to speak with an Equipment Rental specialist or submit a contact form here Or call +1-916-288-6100